OficeAegon, one of the largest insurance groups around the world, has turned its Spanish headquarters into a reference point in the adaptation of its workplace to new work dynamics driven by Covid-19.
Its workspace consists of 2,800sqm, fully renovated and spread across two interconnected floors. It hosts nearly 500 employees and is located in one of the most attractive business parks in Madrid, near IFEMA (Fair Institution of Madrid).
This project was presented as a necessary tool to implement a new work model based on hybrid attendance and commitment to work-life balance. This strategic decision allowed the company to save resources, boost productivity, foster agile teamwork, and offer employees a more inspiring work environment designed for their actual needs.
The Challenge
After 20 months working remotely to guarantee their employee safety, Aegon was faced with more doubts than certainties when they considered going back to the office. On the one hand, they had managed to be productive and find work-life balance but, on the other hand, they were aware of the shortcomings of a purely remote model (more limited team collaboration, human interaction, rapport, and innovation).
Thus, they opted for a hybrid model in which employees would work remotely three days a week and two in the office. However, they realized that the workspace that used to perfectly serve its purpose no longer seemed appropriate for this new model.
Smara Conde, HR Director, explains how this drove Aegon to internally reflect on the purpose of their workspace, "learning from experience during this pandemic and finding out what truly adds value to do together." They came to the conclusion that transforming their office was key to achieving their ambition to become "the best place to work" for their employees.
The challenge, then, was to create new and innovative spaces that would foster team collaboration and offer employees a different experience from what they had known until then – an experience that was enriching, fruitful, and even fun, in which they could reach their full potential and feel cared for.
---
Turnkey Project
To make this possible, a team of professionals from Aegon, Ubicas (real estate management), and Cador (workplace design and construction) worked closely together, bringing knowledge and commitment to the table in all the phases of the project.
The first step was to analyze and evaluate all the properties previously selected. Then, a feasibility study was conducted to guarantee that the buildings met all the requirements, and the space usage at that time was examined to be able to develop the new space strategy.
At Cador, we took on full responsibility for the Design and Build Project throughout all its phases. Our commitment: to execute a 'turnkey project' within the agreed timeline and budget.
We looked for the layout that best served the company's specific needs. Our goal was to make the most of the available space, fostering the versatility of each area without compromising openness and brightness and making the necessary adjustments at each stage of the process, for it is only possible to create the perfect workspace through a live process.
Aegon City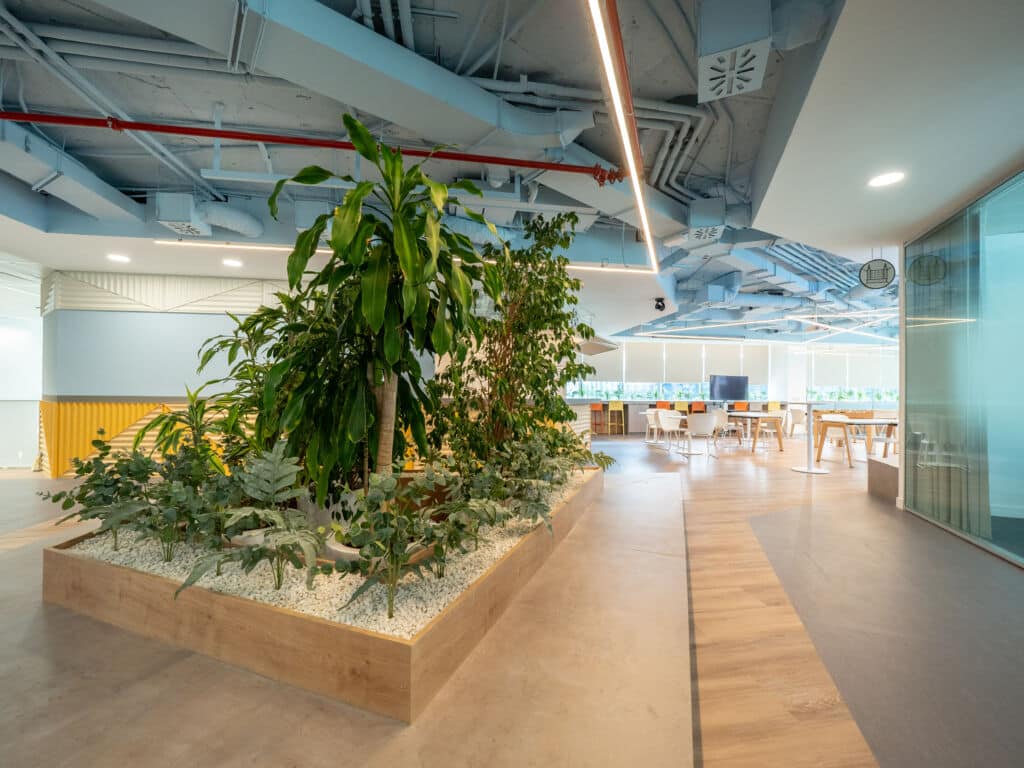 'Aegon City' is the guiding principle upon which the project is developed, conceived to live in community.
The Residential Areas are individual workstations with bench-type furniture and quiet areas to facilitate concentration on the most demanding tasks.
The Market consists of a set of semi-open, mobile, flexible, and cutting-edge spaces called hubs designed and equipped for agile team collaboration.
The Square is the company's main "gathering place" –a central space and large social area with an original food truck café, a playroom, and a large Agora with stands, great for presentations and conferences.
The Streets, defined by different pavement types, divide and organize the space.
The Signs, designed by Cador for this specific project, light-heartedly point to the spaces mirroring the different city areas.
As a result, the 500 individual workstations they used to have were reduced to 100, and these are no longer fixed. Instead, any employee can use any workstation anytime they need. The main focus of the design was on those spaces intended for teamwork, which take up 65% of the entire office area.
Aegon's hyper-digitalized audiovisual technology contributed to the adoption of a hybrid model. The hubs for teams were equipped with cutting-edge technology to streamline communications and improve interaction, even with people working remotely, fostering agile work.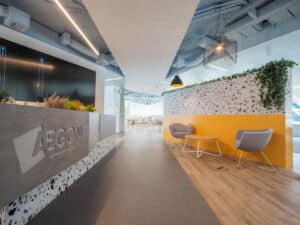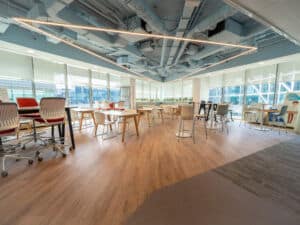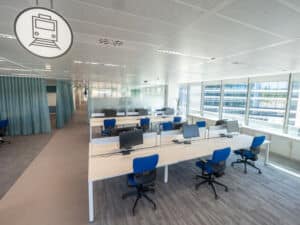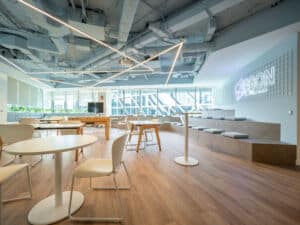 With regards to the aesthetics, at Grupo Cador we worked side by side with Aegon to convey the company's values and enhance the strengths of their working environment. Simple lines, light shades, and neutral colors promote wellbeing, reduce stress, and make the area feel more spacious, bright, and optimistic.
Additionally, the design has biophilic elements, which make the working environment more natural and fresh. The reception, the staircase, and some dividing elements integrate different types of plants through their architecture and furniture and light up the office.
With its new headquarters, Aegon offers its employees a wide range of spaces to choose from based on their needs. Bright, flexible, comfortable, and attractive, they are a place one wants to go to. They are the perfect place to work.
Shall we show you your new office? Contact