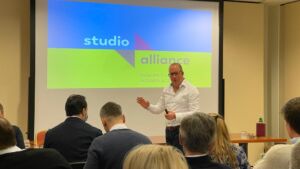 This month, nearly 40 professionals from the 13 member countries of Studio Alliance, the largest alliance of workplace experts in Europe of which Grupo Cador is a member, met in Milan. The international meeting, the first of three to be held by the alliance in 2022, took place from March 8 to 10 and was organized by Il Prisma.
During the different days, the latest news and trends on workspaces were shared, with a special focus on ESG (Environmental, Social and Corporate Governance) criteria. Sustainability as part of the creative process of a project or the influence of ESG in project design were some of the conferences focused on corporate social responsibility.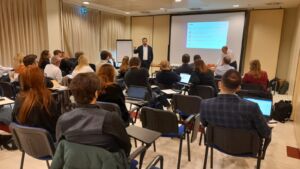 At the same time, technology maintained a leading role throughout the event, where it was addressed the introduction and use of digital tools and big data in office design and construction processes. Trends that are becoming increasingly important, such as Smart Working and change management, were also presented. Studio Alliance is committed to innovation as a driver of progress and makes it one of the core values of each of the members that make up the alliance.
The role of offices in the current corporate cultural change was also another topic on which members exchanged their knowledge and perspectives. "Now more than ever, people are looking for a personalized user experience in their office. The workspace has become a place where they can grow as employees and as human beings," notes Rubén García, Director of Business Development and Client Relations at Grupo Cador.
The workspace is emerging as an added value for employees and, therefore, a tool for attracting and retaining talent. "People will come back to the office for conviviality reasons," says Rémi Mangin, president and Founder of CDB, the France-based Studio Alliance member. "They will be attracted to a place where they feel comfortable, where they can connect with their teams to discuss, to collaborate. Employees will come back to the office just because of the desire to be there and not somewhere else."